Ombudsman
LUAMANUVAO

Katalaina Sapolu
Luamanuvao Katalaina Sapolu, born 6th August 1958 in Moto'otua, Samoa, is a Barrister, serving as the fourth Ombudsman of Samoa and the first woman to hold the post. Sworn in on 1st April 2021, her appointment is for a term of six years.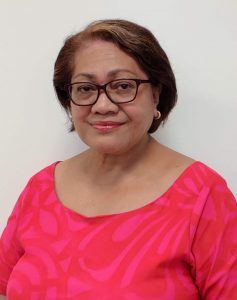 Luamanuvao brings to her new office a wealth of international and legal experience. She served at the Commonwealth Secretariat in London in various positions as Head of the Justice Section in the Legal and Constitutional Affairs Division (2002 – 2009); Director of the Rule of Law Division (2013 – 2017). As Senior Director of the Governance and Peace Directorate (2017 – 2019), she was responsible for the implementation of the organization's mandates on democracy, rule of law, human rights, public sector governance and countering violent terrorism. Luamanuvao also served as Chief Legal Counsel of the African, Caribbean and Pacific Group States (2012 – 2013) in Brussels and advised the ACP Group on the implementation of the Cotonou Agreement and the negotiations for the 11th European Development Fund with the European Union. She returned to Samoa in early 2020 and co-founded a consultancy firm focused on law and justice reforms.
Admitted as a Barrister and Solicitor of the High Court of New Zealand in December 1986, Luamanuvao started her legal career in Auckland, New Zealand, serving the wide Samoan community there. In February 1988, she was admitted as a Barrister and Solicitor of the Supreme Court of Samoa and appeared as counsel in the civil and criminal jurisdictions of the District Court, Supreme Court and Court of Appeal until her appointment to the Commonwealth Secretariat. She was also a Notary Public and a past President of the Samoa Law Society.
Luamanuvao holds a Master of Laws (LLM) degree with Merit in the specialization, Public International Law, from Queen Mary, University of London, as well as a Bachelor of Laws (LLB) from the University of Auckland, New Zealand and a Bachelor of Arts degree in Philosophy from the University of Newcastle, Australia. 
Luamanuvao is from the village of Vaiala, the origin of her matai title Luamanuvao, her parents are the late Dr. Maka Sapolu and Laga'au Uele Sapolu. She is married to Judge Richard Lussick and they have one son.